IAHTM Names Ed McCauley and Paul Seigel Its "2022 Don Pedder Lifetime Achievement" Recipients
Powell, Ohio – November 14th, 2022 – The International Association for Healthcare Textile Management (IAHTM) has named Ed McCauley and Paul Seigel (photo, right) its "2022 Don Pedder Lifetime Achievement" award recipients.
Furthermore, the conference provided attendees with valuable educational sessions and networking opportunities. The Don Pedder Lifetime Achievement Award was presented at IAHTM's Annual Education Conference. It held September 10-14 at The Marriott Oceanfront Virginia Beach, Virginia.
IAHTM is a nonprofit membership organization for healthcare laundry cooperatives. Moreover, it provides senior-level textile managers with resources and support to maximize their laundries' efficiencies and control costs without compromising quality or patient focus.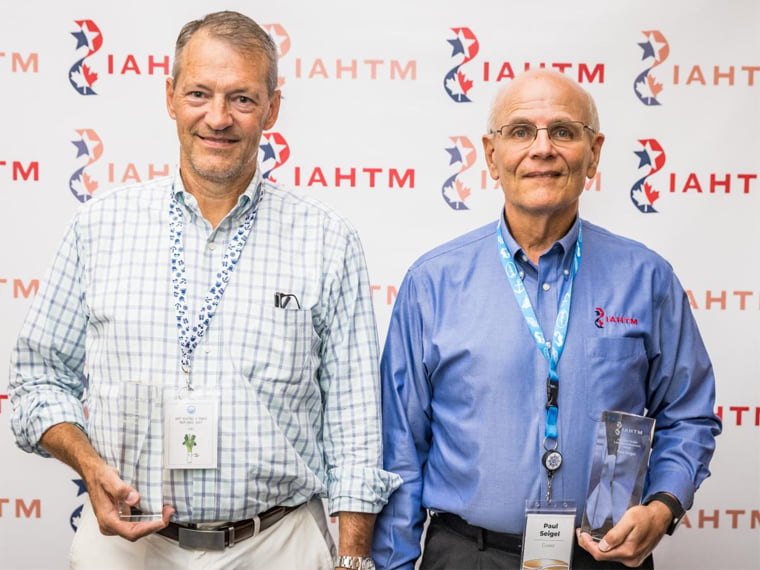 Ed McCauley has been working in the industry for over 39 years. He has joined United Hospital Services in Indianapolis, Indiana in 2002, where today he is President and CEO. McCauley has been an active member of the textile services industry and has held multiple leadership positions. He has served as the past president of IAHTM, ARTA, and a board member of HLAC. Currently, he is a regional board member of the Indiana Make-A-Wish Foundation.
Bill Moyer of HCSC says what he admires most about McCauley is "not just that he is a fellow Penn State grad, but his steady growth and vast knowledge he has attained within the industry".
Paul Seigel, a long-time industry veteran, with over 39 years in the field. He has worked at various organizations, including Kawartha Hospital Linen Services, Booth Centennial Hospital Laundry Services, and Kingston Regional Hospital Laundry.
Seigel was a steadfast supporter, association treasurer for 10 years, and an ever-present guiding force within IAHTM for almost 30 years. In addition, his willingness to dedicate his time and knowledge to IAHTM members is absolutely invaluable to the organization. Meredith Bowery of Virginia Healthcare Laundry Services notes that Paul Seigel gave everyone patience, calm, and a welcoming attitude. She also added that Seigel supported and made everyone feel welcome.
IAHTM congratulates these award recipients! We are also thankful to both for their many contributions to the industry.